t.rox: How did it feel winning the opportunity to play lead guitar in the Kid Mitchell Band?
Ayden: When I won the Kid Mitchell Band's guitar spot, it was awesome! I felt like I was about to cry from how excited I was and how I was going to meet Kim Mitchell and have my first real band!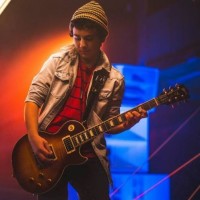 t.rox: Tell us about what you guys do when you get together?
Ayden: When we get together we get right to work for our upcoming shows but we also fool around a bit and have fun all while rehearsing. Sometimes we will go out to the West Shore Bar and Grill's Sunday Jam to practice the songs live with an audience.
t.rox: What's in store for The Kid Mitchell Band?
Ayden: This Friday we have an opening show at Club 108! (formerly ENTEX) Then on May 16 we are opening for Kim Mitchell in Virgil, Ontario with about an hour of material. We'll be opening for Kim again this spring so check us out on-line. The Kid Mitchell Band
t.rox: When did you start playing and when was your first live gig?
Ayden: I started fooling around with a guitar when I was around 4 years old but started taking lessons at around 9. My first gig was when I was around 7 or 8 and my dad taught me 2 really simple chords : A minor and E minor. I played rhythm and he played lead at a Sauble Beach gig.
t.rox: Other than Kim Mitchell, who are your influences?
Ayden: My influences are Slash, Randy Roads, Jake E Lee, Earl Johnson, Joe Satriani, my Dad and Kim, of course!
t.rox: Awesome, Ayden! Thanks for talking to torontorox! See you this weekend!
Ayden: Sure thing, Billy! Thanks!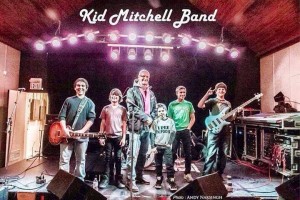 t.rox: Check out Kim at Q talking about the Kids and introducing their video of Rock N Roll Duty