t.rox: What drew you to music and keeps you motivated?
MWA: The Simpsons really introduced me to music if you can believe it. Lisa's sax playing, its tone and soulful vibe stirred something in me to pick up the sax when I was 10. I truly loved playing and played jazz, swing and classical music in stage bands up until I was about 15. The sound of the sax got my attention but being able to express myself is what got me hooked. I started writing when I was 10, nothing elaborate of course, but the compositions were mine. I wanted to be good so studied, practiced, performed and wrote, always taking risks and pushing the envelop.
t.rox: Jazz, swing and classical started you. So, how did you end up playing metal?
MWA: That's funny man but I could never have stayed with just those 3 genres. When you go to school everyone learns the alphabet, then words, then sentences etc. Can you imagine if everyone was stuck in a phrase? Music is a language and being illiterate isn't for me. I bumped into a guitar when I was 14. That first encounter with the ax was like a jolt of lightning tearing through my veins. It introduced me to an unbelievable number of possibilities, so many more than the sax offered. I studied rock and metal right out of the gate. A lot of people play piano then switch to guitar. By chance or maybe divine intervention I chose the sax and because of that choice I learned to play single note melodies which I transposed to the guitar. The move to guitar was a natural progression for me with a ton more possibilities. Besides hard rock and heavy metal are aggressive music genres that allow me to let my inner wild man loose both creatively and performance wise. After a show its like I just had a heavy metal work out. Its exhilarating.
t.rox: Who are your major influences?
MWA: I think that swing and classical are a huge part of me. So I'd have to say Benny Goodman, Mozart, Bach and Paganini really etched a notch in my soul. The guitar players that really influenced both my playing and writing are Jeff Beck, Randy Rhoads, Eddie Van Halen, Malmsteen, Satriani, Mick Mars (I think this guy is under recognized) and Stevie Ray Vaughn. Also, I was really interested in electronic music for awhile and I'd have to add Deadmau5 as well a Knife Party. But in reality I've studied so many more artists and genres because of my education at Berklee as well as my own curiosity.
t.rox: What was the motivation to choose Berklee College of Music?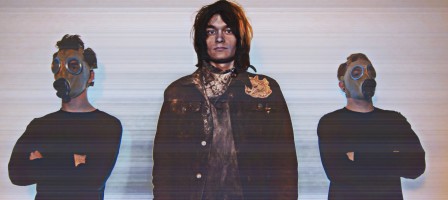 MWA: Now this is a good question man. Get this one. On June 6, 2006 (666) I was offered my first record deal. While I was reading the contract inside with my parents, the deck on the side of our house was burning like a bat outta Hell. A lady who was passing by came to the door and asked if "we knew that our deck was on fire". When the smoke cleared there wasn't that much damage but I was on my way to Berklee and not the road. I chose Berklee because I knew that I had to go to a school that focused on guitar, on lots of genres and had great teachers. I really didn't want to because the road looked more attractive at the time. I was 17. But my parents took me to LA to talk with another label that was interested in me. It was a small but killer label and the guy who owned it, its since folded, told me it would be smarter for me to hit the books instead of the bricks. He was right.
t.rox: After Berklee you moved to LA and then NYC. What happened there?
MWA: I always wanted to live in California. I cut my teeth on Van Halen, Motely Crue, Ratt, Randy Rhoads (Quiet Riot), Skid Row and pretty much every other band that hung out on The Sunset Strip and played The Whisky. So after Boston I moved to LA and interned at Capitol Studios. My first day on the job I met Ringo Starr who was in town to get his star on the Hollywood Walk of Fame. Its all true about Ringo, he's a really cool dude. I mean totally cool. Also, I played a lot in SoCal (lots at The Whisky because the booking agent really liked me), wrote/recorded 2 CD's and finally got an agent through my entertainment lawyer. The agent was in NYC so I moved there but he wasn't all he was advertised to be.
t.rox: How did MWA evolve?
MWA: Men Without Armies was born because I was sick and tired of being marginalized for my guitar playing. I performed as a solo artist for a few years, fusing rock, metal and neoclassical guitar to techno, dubstep and industrial. I captured fans on the fringe of the metal scene and those on the edge of the heavy electronic scene but not fans from both scenes as I had hoped. So in Fall/13 I advertised on Craigslist and got bass player and vocalist Bill Davis and drummer Roger Winter. I must have been lucky because we really clicked. I write all the music and Dude Diablo, a friend of mine, writes the lyrics.
t.rox: Where did the name come from and does it have a special meaning?
MWA: I wanted a name that first and foremost would resonate with people and secondly meant something to me. After spending a couple of weeks going over about 300 – 400 names I chose MWA because it really meant something to me and friends liked it. MWA to me means standing along, being your own person and walking your own path without the need of a posse to get you through. Also, I pictured 50,000 rabid metal fans chanting "MWA". That sealed it. I like to think big what can I say.
t.rox: You are moving back to Canada. What does the future hold for MWA?
MWA: Yes, I'm moving to Toronto at the end of this month and the first thing I need to do is get another band together. I'm Canadian but both Bill and Roger are American so I'm getting that organized now. I'm shopping the EP to labels but who knows what will happen there. The only thing I'm sure about is Men Without Armies will be performing around Toronto this spring.