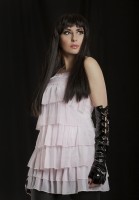 t.rox: Hi Patrizia! Would you please share the need to know info about your overall performance and your music?
Patrizia: Hello Mr. Zee! I want people to know that if they come with any preconceived ideas they will be shocked, that is "pleasantly shocked" or eyes wide open not unlike "a deer in the headlights" type of look!
t,rox: What's special about attending the Friday April 4th show at the Mod Club?
Patrizia: People should do their utmost to come because first of all it is not only a show, but an event. We have taken the time and effort to make the whole evening very enjoyable for all those who are there. We want to make sure people are being entertained, moved, excited, provoked, challenged and awed . The show portion itself will be very riveting, backed by a band that includes the most seasoned rockers in Canada and an electric string quartet as I sing in many different voices – anything from Beethoven to Muse. Performing onstage with us is the brilliant Yoshi from "Rainbow Pictures" who will be manipulating the latest in visual mixes on 7 projectors in sync with a light show! In addition we will have silk aerialist, Katelyn McCulloch, bring danger to the mix. Our opening act "The Collide Project" will hauntingly begin the evening with a gentle collision of musical styles. Last but not least, we have DJ Sanga Genesis spinning the latest mash-ups and dance tunes all night. So, never a dull moment!
t.rox: What do you say to people that refer to you as "that Opera chick"?
Patrizia: I despise the label "Opera Singer" because it limits who I am as an artist. It puts me in a straight jacket and if anyone is paying attention, they will see that I am a rock artist with an operatic extension/angle/edge. I didn't grow up with opera but with rock. I was a rock singer until I came across opera later in my life. I can do opera well but my rebellious nonconformist nature is born from a rock n' roll spirit and not traditional opera. The reason why I am not pursuing an operatic career is because in opera you follow tradition – there is NOTHING traditional about me…always been a rebel and always will be!!!
t.rox: Awesome! That rox! Now could you please tell us about the concept of "Rock the Throne" and what it actually means to you?
Patrizia: The concept came out of the fact that I am referred to as the "Queen of Rock Opera", I sing the song "Fury (the Queen of the night)". Also, the connection to Queen the band. To "rock" the throne is to shake up the foundation and concept of 'what is opera and what is rock'. It is my way of rocking their foundations by introducing a new idea and a new way of experiencing music on the concert stage. It is a general admission show but apparently there is some tiered ticket packages that get guaranteed seating and VIP access – can you provide details on the tickets and how we can purchase them? I care very much about my fans so I have provided for them by offering guaranteed seating in the VIP booth area as well as the Party Swag Bags (Vip seats, drink tickets and the new CD)
t.rox: Your Mod Club performance last year rocked and now are playing there again. What is it that makes MOD so special to you?
Patrizia: The Mod Club is my favourite club because not only it is a comfortable and beautiful venue, but it has a live concert vibe. It is huge and it has all the bells and whistles for a concert style show . I have played there so many times and it truly feels like home
t.rox: Great club! What happens after this event – what's next for Patrizia?
Patrizia: After this event I go into the studio to record new material and I have my eyes on Asia and Germany for touring. I want to do what the 2 Cellos are doing ..keep shocking and pushing the boundaries (in an artistic sense) of course! No Myley Cyrus antics from me…LOL
t.rox: Well on that note, I'll thank you for the chuckle and the chat! Your artistic beauty truly rox! Zee you soon Patrizia…
Patrizia: Thanks Billy! torontorox!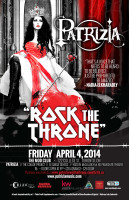 Hey yo! Here's the clickables:
The facebook event page – Rock The Throne
The ticket packages available – Tickets