t.rox: Tell me a bit about Second Pass?
Steve: Second Pass are: Yours truly, Steve Pass on Guitar; Andrew Buntain plays Bass; Rich Rizzo on kit; and the very lovely and talented Veronica McNamee front and centre on vocals. Andrew and I started the band in 2008. It was an on and off project for about two years with several different lineup changes highlighted by the recording of an EP.
Andrew: After launching the EP, the vocalist and the drummer bailed. We didn't want to give up on the band because we knew we had a good thing going. So, I invited Rich to join us on drums. I had played with Rich in a prog rock band before and knew he'd be a good fit.
Steve: We continued jamming, but as tends to happen when things aren't perfect, we went on hiatus. Meanwhile, we continued our search for a vocalist. It took about two years to find perfection. I was playing with a blues group when Veronica McNamee walked in. I was so blown away I begged Veronica to do "just one" gig. Veronica's first jam was on January 22, 2013.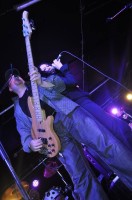 Veronica: Yep. January 22nd. Something happened in that jam session. It was unreal. We just gelled. It was as if we had been playing together forever. The connection was immediate and just perfect.
Rich: Since Veronica joined, we recorded a kick-ass EP called
"Fragments" in August 2013; performed on a lot of stages; and began
getting radio play in Australia, Bolivia, Argentina, and Spain.
t.rox: How would you describe Second Pass' sound?
Steve: We've described ourselves as Dirt Rock – Down and dirty, hard rock. It's funny, really. We've received so much feedback since the release of "Fragments". We've been told that we remind people of the great 1970's arena rock bands. Others have said 1980's metal and others have said the 1990's Seattle Grunge bands. We think it's great that we have a different effect on different listeners! Ultimately we are deeply influenced by all of those eras, but we don't think we sound like anything other than hard rock.
t.rox: Tell us a little more about your musical influences?
Steve: Each of us brought our own unique background to the band. I have hard rock influences in my guitar work, but also have a deep love of the blues. Andrew began in jazz and funk genres to go with his love of hard rock. Rich played with various bands from metal to progressive rock…but his passion is prog rock. Veronica is widely diverse, but has sung a lot of jazz in South America.
t.rox: What was your craziest gig?
Veronica: We've had a few, but destroyed most of the evidence. One
night we ended up playing at 1 a.m. on a Sunday night. We figured
nobody was going to show up but we "thrive on live" so we said yes. As it turned out, the bar was packed and rocking. Sorry I can't divulge any more details but it was just an epic night.
t.rox: What's up next for the band?
Veronica: We have some live performances coming up that we are very
excited about. We are currently working on a music video for our song "Biting My Tongue" in collaboration with the Bolivian filmmaker, Jesus Villca Madeni. We are also looking forward to returning to the studio with some new songs. 2014 looks like it's shaping up to be an exciting year.
t.rox: Blow the roof off Lee's, okay?
Andrew: Yes! Thursday February 13th 2014. First band starts at 9 and we're on at 10. It will most definitely rock!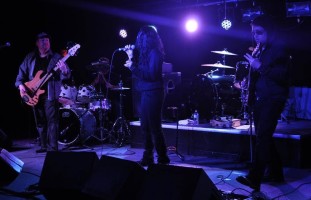 photos: b!||yzee