t.rox: Here's Eric and Frank from Shattervox. How are you guys today?
Frank Miotto: Great!
Eric Brombacher: Yeah, life's good!
t.rox: Good to hear it! So tell me a little bit about the band, who you are, and a little about your sound.
EB: Well we're a four piece straight ahead rock n' roll band. We've been going strong since 2009.
FM: Sound wise, we are just straight for the gut rock n' roll and we cover the full spectrum, hard rock, classic rock, pop-rock and even some sensitive ballads thrown in!
EB: Yeah the main thing for us is that it's organic and real. We pride ourselves on our live shows and in the studio we try replicate that 'live off the floor' sound.
t.rox: Yes, that really comes across in your 2012 debut album "Before There Was No After" which really plays like an honest 'working man's' rock album. Now you also released a single this summer "Coconut Day", and that's a completely different sound!
EB: [laughs] …Yeah we had a lot of fun with that. It's our first ever ukulele based song, and it's a very 'Hawaiian' inspired tune …and yes it's definitely different!
FM: Yeah and that's the cool thing, we don't try to limit ourselves to a single genre …whatever comes out musically, we just go with it!
t.rox: And you've also released a Christmas song!
FM: Yes! "Home for Christmas" …we wrote that late last year and we did a YouTube video of Eric and I singing acoustically. We got a lot of great feedback on it so we decided to record it with the full band.
EB: …and it turned out great we couldn't be happier, and again the response and feedback from fans has been fantastic!
t.rox: And can we expect more new music Shattervox in the new year!
EB: Absolutely. We're currently working hard on our follow up album. We're spending a lot of time writing and recording. We've got ten new songs in the works, and it's sounding really great!
FM: Yeah, we are really expanding our sound and taking it to the next level on this project. We're very excited.
t.rox: So tell me about your upcoming show …it must be a thrill to be back at the El Mocambo!
FM: Yeah it really is …It's a special feeling being on the same stage where historic acts like the Stones and Stevie Ray Vaughan have performed…
t.rox: …and Shattervox!
EB: Yes! And we've got a great show planned. We've got a great show planned. We'll playing lots of new material from the upcoming album, as well as some brand new songs we've just written and will be debuting for the first time ever! We also have a great opening act "The David McFarlane Band", and I just love their sound. So we're pumped! …and not to mention our illustrious emcee Billy Zee!
FM: Yeah, and it's an all ages show, so my daughter's going to be there and she'll see Daddy rocking out for the first time ever! A lot of our friends are bringing the kids to hopefully spark a lifetime love of rock n' roll!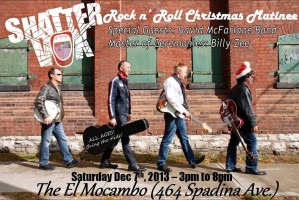 t.rox: Great! Start them early! Hey thanks a lot for your time guys …I'm looking forward to it!
EB: Thank you Billy …We're huge torontorox supporters and we can't thank you enough for your support!
FM: Thanks Billy, and thanks to all the fans!