The mission of torontorox is clear and positive. The purpose is to provide for artists in areas where assistance is requested and/or required. Street level promotions are most important as this area seems to have little support from the industry. Community involvement and occasional relationship management; photos and videos of shows and promotional interviews; technical and artistic support; referrals and more are offered for free to artists. There is no potential for this service to undermine the success of artists' endeavours.
Artists, including bands, photographers, painters, performers etc., who "like" facebook.com/torontorox page are encouraged to share a weekly promotional posting on torontorox' wall and to tweet @tdotrox to your heart's content regardless of the show's location. Both of these methods of sharing are promoted automatically to torontorox.com. Directory listings for bands and clubs who hire bands are available via email request and are also free for the 416. As torontorox.com is considered a webzine (online magazine), one ticket, media pass or wristband is appreciated in exchange for promotion. To better promote your show, ticket or CD giveaway contests on torontorox are mutually beneficial.
Since August 2013, torontorox founder, Billy Zee has teamed up with a print magazine from Los Angeles via one of Toronto's most prominent photographers. The assignment is to compliment the photographs with positive written reviews of international artists. To date, this service has been free in exchange for admission and there have been zero reviews of any local talent. Some services have asked for free promotion and volunteering to boost their popularity and profit margin. Cooperation is a must and help can be provided given time and funding. Also, some artists have attempted to use torontorox as a forum to express personal issues regarding their negotiations and relationships. Help is available but public negativity is not tolerable.
The record companies, radio stations and many club owners are primarily concerned with their return on investment (ROI) to maximize shareholder value. These are the potential customers for torontorox and the ones who are best able to help artists in terms of financing projects or hiring you. torontorox cooperates with many perceived competitors as this contributes to informing and entertaining the fans. The growth of the torontorox community will not only benefit you; your friends; your fun; your city; your economy; etc. but it will also increase the overall level of entertainment by educating art enthusiasts and creating a community of cooperation.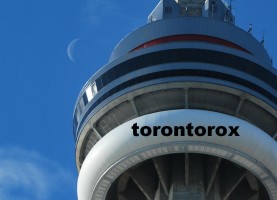 All the best to you and yours!
billyzee@torontorox.com
cheers!-b